Fiftieth Anniversary Guestbook
Here's to another fifty wonderful years
We're Golden!
Be a part of Bucks History.
Join in the celebration by signing our Guest book.
Share your Bucks memories, wishes, and photographs here.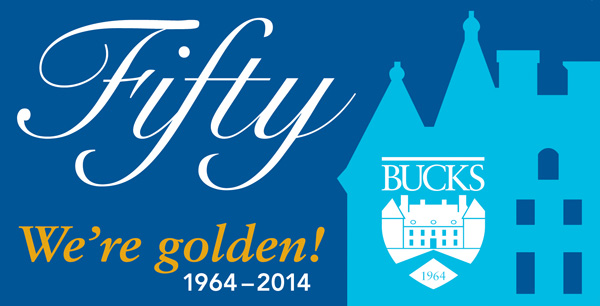 Keep up the great work guys!!!
I was a student in the first year of Bucks County Community College's existence. Had a great experience that year, but left to join the USN in 1966. Four years and three trips to Vietnam convinced me to return to Bucks and I graduated in 1972 and matriculated to Trenton State(now the College of New Jersey)for H+PE degree. Played baseball at Bucks on a couple of those great teams under coach Lou Pacciolli in the 1970's.
The one common thread that I would say was a strong point in the time I spent at BCCC was the outstanding educators that I was lucky enough to have as instructors in those years. There are too many to name here, but I would like to thank them all for their desire to create a wonderful learning environment for all of our citizens in Bucks County. Congratulations Bucks County Community College on fifty great years education for those of us who attended your fine school. Gregg Lorenz '65-'66, '70'-72
Started my journey here in 1994 as a student and 20 years later, I am back as a faculty member in the Arts Department. I am truly humbled to be part of the Bucks community once again and excited to be educating students in the county that I lived.
Really fond memories of my time on campus and making new friends. Special thanks for the guidance which eventually led to my work on www.editmypaper.ca where I was instrumental in their marketing department.
To 50 more years of community service to Bucks County and It's people.I attended in 1965 and loved it.
Thank you BCCC, without the Bucks experience, I would never have had the career in Human Services that has meant so much to me and to my family. Best wishes and prayers for another 50 successful years in Educational and Community Service.
I learned so much while I attended BC3 - both in my academic and personal life. Thank you for 2 great years! May Bucks County Community College be around for at least the next 50 years.
Best of luck to a wonderful college and to all those who help make it the best it is. Here's to another fabulous 50 years!
My first year at Bucks has been a great experience. A place that helps you no matter what.
I am currently a faculty member, and volunteer, here at the college. I feel that Bucks County Community College is true blessing to our community. The work we do here makes a genuine difference, and improves lives, everyday.
Best of luck on another 50 years! Beautiful campus and affordable tuition. Hope to hear of the college implementing 4 year programs in the near future!
Here's to another 50 Years!
The ice is temporary, but the memories will last my lifetime. Proud to serve the students, the college, and the community. Thank you BC3 !
Dean Skinner was my best motivator & started me in BCC. Hope BCC has another 50 years of success.

Congratulation on fifty years and best wishes for another 50!
My educational journey began at Bucks and I graduated in 1978. My education here and my wonderful mentors prepared me to further my education and I am happy to say I completed my Masters. Thank you for the doors you opened in my life.
I have been a faculty member of this wonderful institution since the early days of the college. I feel fortunate to have worked with so many great students, staff administration and faculty. I hope the progress made over the first 50 years will continue with those who are part of the college's future.
My favorite memory is clinical with Ms. Green and the time Ms. Keane showed up at OB clinical and all the students turned pale.
Bucks County Community College is the jewel of the county. Happy 50th Anniversary. Golden year and beyond a true academic community.
BC3... proud to be a part of 50 years.
My favorite memory was meeting and graduating with the nursing class of 2014!
I am happy and honored to say I am employee of this wonderful institution. It is with pleasure I go to work and experience the joy of working with such fabulous faculty, employees and students. Happy Anniversary Bucks!
Had such a great experience and memories at Bucks!
Congratulations on your 50th anniversary! Continued success in the next 50 years.
"What matters in life is not what happens to you but what you remember and how you remember it."
― Gabriel Garcí­a Márquez
My favorite place to teach at Bucks is in Tyler Gardens. In spring or fall, the gardens make an inspiring outdoor classroom for teaching writing, poetry, and more. I'll never forget taking my literature students to the gazebo to honor the passing of Gabriel Garcia Marquez last year, shortly after we studied his short story "The Very Old Man with Enormous Wings." After we read and discussed quotes from the author, the students placed the words into a wooden box at the center of the gazebo. While I burned sage, the students set daffodils down next to the box at the center of the gazebo. We observed a moment of mindfulness: silence broken only by birdsong. It was a small ritual to honor the passing of a literary giant, but it bonded our class in a way my students will remember long after they graduate from Bucks.
I will always remember my time at Bucks! I now attend RU, but Bucks will always have a special place within my heart.
Congrats Bucks on your 50th Anniversary!!!. The education I received at Bucks changed my life for the better; as a result of it, I hope I have changed the lives of the patients I have come in contact with also for the better. Thanks Mrs Keane!!!
If it had not been for Bucks County Community College I would have most likely never been able to go to college. The education I received there helped me to achieve a successful career in business. Class of 1968.
I credit my successful and rewarding career in communication to my days at Bucks. The faculty, especially Dr. Richard Bullock, Rev. Ernest Barstow, and David Dean; the challenging curriculum, especially History-Humanities I-IV; the beautiful setting, and my classmates were second to none. So grateful for those days. Faculty gave us the freedom and encouragement to express ourselves and paved the way for me to continue my education successfully at Emerson College. Best wishes for another 50 years. Proud to be a graduate of Bucks County Community College.
Hello BC3 Gang: To all the theater (Orangery) crowd, swimmers under Mr. Hughes, and radio station people -- Where is "Grog" the mascot? Karen E. Kukuchka-Mann '70

Starting at Bucks opened so many roads and paths for me including spending a semester with the Disney College program and getting to represent Bucks in the Happiest Place on Earth.
Congratulations! Before I came to Bucks, I went to a county college in Scranton, PA. Since I arrived at Bucks, my professors have been totally professional, some have gone beyond the call of duty & a few are my favorites!
Congrats on a memorable 50 years of education! I love BCCC and look forward to going to my classes, everyday. I'm thankful for this school in so many ways. Here's to another 50!
Here is to the start of another 50 years.
Good luck.
Congratulations as the college celebrates its first 50 years! The people who have lead the way and those who have participated in the college's success have created a vision that is synonymous with a quality education and superb customer service, and success for our students.
Good luck on the anniversary. I have finished my first year at the campus and enjoy coming everyday to the beautiful campus and grounds.
The day I first entered Bucks as an older student was not only one of the most important but one that literally changed my life as well. It was the first time I truly understood, thanks to Professor Ed Lewis, that intellectuals were not only those whose voices I had heard in books.
I graduated in 1977, was accepted into the Honors Program at Arcadia University (then Beaver College), and returned to Bucks in the fall of 1991 to teach.
Bucks provided my first experience with formal higher education and the first of many intellectual and artistic ventures; it was an experience for which I will always be grateful.
Thanks Bucks!
Wrestling team 1979-1980. 165lbs.
I was at bucks in the 90s. I was a night student studying early childhood education I was involved in Hillel and met people there. I feel like I got a good education
Small Business management - 2015!!!!!
After 6 years I'm back to complete what I started here...Let 2015 and beyond be to me and the college...be all it can be.
Congrats!
So proud of this College and all of the people who graduated. I enjoyed walking through this campus and hope my children get the chance to too!

Bucks was the perfect place for me when I returned to school as an adult. The faculty is phenomenal, the setting is gorgeous, and the associates degree I received opened up a world of options. Very proud to be a Bucks alumna!
The Set Shop, backstage at the Library Auditorium. We built shows all year back in the day.
Bucks is home to many students ready to go to University but we are taught by many tremendous teachers how to begin our journey. Bucks has great teachers who are always willing to help and aid their students to prosper.
Congratulations Bucks! My time spent at Bucks was wonderful and I met so many wonderful instructors and classmates! have so many memories from nursing school at BCCC that I will cherish all my life!
After experiencing being a student and what I learned from the faculty & staff, I returned as an employee to give back.
Best two years of my life. Student work study photographer from 78 through 80. Took all photo, video, and film courses. Even had my own darkroom in the basement of Tyler Hall.
I graduated with a degree in early childhood education and took a class in pharmacy.
My professors were all incredibly helpful and the culinary program gave me a lot of experience in eating free food in the courtyard. 50 more years for BCCC!
Great memories - Class of 1972
Kudos to faculty and staff for truly making Bucks a place to learn and return for the past 50 years.
Bucks is an outstanding institution, a jewel of the community, and an excellent place to work. I'm looking forward to the innovative developments over the next fifty years. Happy Anniversary Bucks!
Good Luck Bucks. Thanks for the memories!!!
What an amazing 50 years! Best wishes for continued success. Our community and students are lucky to have such a great institution in their own backyards!
I feel honored to be working at an institution with such rich history of philanthropy, community mindedness and involvement, interesting and engaging colleagues, and outstanding students who make this place so special. Happy 50th Anniversary Bucks! I'm proud to be part of this community of excellence.
Over the last fifty years, our faculty, staff and administration concentrated on building a college which prioritizes student access and success as well as teaching, educational and academic excellence. Our students have embraced this opportunity to learn and engage with each other. Each and every one of our students truly are our most significant accomplishment!
Congratulations to our students, faculty, staff and administration for making Bucks County Community College a very special and exceptional Institution of which our entire County and Community are justifiably proud!
May this great Institution grow and prosper and serve our County and Community for many generations to come!